The critics and our valued clients agree: whether elegant or casual, glamorous or minimalist, for 100 to 1,000 guests, Mission Dance never disappoints! We takes great pride in the wonderful comments we receive…
Testimonials
Hi Lee,

I wanted to personally thank you and mission dance for hosting our dream wedding. Everyone is still raving about how great the music was and how you guys played everyone's favorite tunes. My only regret is not being able to dance enough because they kept making us take pictures every minute!

Your band is so great and professional. They really made the night as perfect as it could be. Everyone told me their feet hurt the next day from dancing too much.

Thank you so much for singing our first dance song so beautifully. One of Paul's cousins from Italy recorded and I probably played it 20 times already :)
I also loved when you sang can you feel the love tonight.

Paul had a blast on the drums and we are so happy that worked out.

You guys really are the best and I knew that from the minute I heard you and met you. You were my favorite vendor to work with as it became more of a friendship over business. Thank you again for everything and we will be recommending you to all our friends. We really hope to see you soon and I will definitely be reaching out to Brianna once we are settled and unpacked from honeymoon :)

Take care and all the best,
Jennifer and Paul Luini
"We couldn't live without our amazing band Mission Dance! They made our wedding unforgettable and seriously had every single person up on the dance floor at some point in the night. They played a huge variety of music and blew our guests and us away! Their interaction with our guests and their enthusiasm were truly remarkable."
Tara & Domenick
(Featured as the Wedding of the Week in New Jersey Bride – see photos)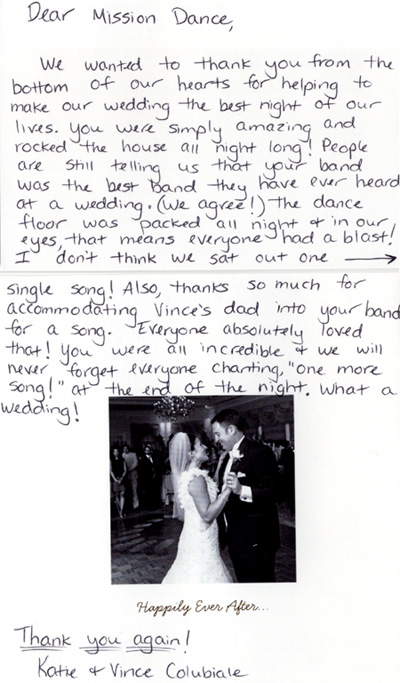 Your band is simply the best. Thank you so much for throwing an amazing dance party. I will recommend you to everyone I know. Thank you so so so much! You made my wedding night the best night of my life...
Amanda & Michael Artale, April 13th , 2013
Our son, Scott, and new daughter-in-law, Allyson, got married last night at Clarks Landing and it was the most amazing night and, by far, the best wedding we have ever been to thanks to Mission Dance. All our guests said the same thing. One thing you can count on in life is if you have Mission Dance entertain for your special occasion, it will be a guaranteed success. We've proven that twice now with our family, and Lee, Andy and all of Mission Dance are more than a phenomenal band, they are a special part of our family's happiest memories. There was never a question that with our dear friend Lee Deedmeyer watching over us, everything would go perfectly, but last night was beyond perfect - it was sensational and that was all because of Mission Dance. From the brass section to the guitars, bass, keyboard and powerful vocalists, each person in that 10-piece band brings a remarkable individual talent that, when combined, creates a sound that gets you feeling happy and wanting to dance from the first note to the last, which is exactly what everyone did. This Mission was successfully completed, Mission Dance - may you continue on your mission to spread joy and happiness through music for many years to come. We thank you!
Amy and Russell, December 3, 2012
There is nothing I could say about this band that would allow you to fully understand just how wonderful they are!! We met them at a friend's afternoon wedding and never expected the PARTY that went on. My husband and I were not engaged yet, but after about 3 songs he said to me "We have to get these guys for our wedding!". As romantic as it sounds, the night we got engaged he said "I can't wait to call the band tomorrow"!! :)

They are amazing and talented!! What separates them from other bands is the fact that they truly seem to be having a blast!! Lee is amazing to work with and was giving us great ideas to combine our NJ/British wedding! He was so flexible when it came to our ceremony ideas and even got the kids into the mix during the reception! What a fun bunch of people!!

We said to our friends after their wedding "WOW we have never heard a band like that!! They were amazing!" I can not tell you how many people have said that to us since our wedding! These guys are truly something else and we would book them again in a heartbeat!!!!!! AMAZING!!!!
Christina and Alexander, Event Date: 2012-12-15
Lee, Jeff and the rest of Mission Dance,
We would like to thank you for being part of our daughter's wedding and making it a huge success! Our family and friends are still raving about all of you from the warmth of your personalities,your professionalism and the fantastic entertainment you provided! We look foward to working with all of you again!
Deb & Rich Faden - March 2011
Hi!
We just got back from our honeymoon and I wanted to say THANK YOU again. People are still talking about how amazing your band was and it definitely made the party. I heard a lot of people say that it was the best band they have ever seen at a wedding and some of the guests said that they felt like they were at a Broadway show during dinner. Also, a group of people from the wedding were telling me how much they loved the band in the lobby of the Oyster Point Hotel the following day and a lady came over and said she's been hearing people talk about our band all morning and she wanted your information since her daughter is getting married.Please tell everyone in the band how much we loved the music.
Thanks again and Happy New Year!
Jennifer O'Reilly - December 2010
Hi Guys,
I wanted to take a moment to write you both a quick note to thank you for the great performance from the band now that I have come down off the adrenaline high of this past weekend at my son's wedding. Because I had seen you entertain at a wedding at The Shadowbrook a couple of years ago, I had very high expectations. You actually far exceeded my expectations and the vision I had of what the wedding would be like at Stage 6 in Brooklyn. The entire band sounded tighter than ever and you guys really rocked the house from the opening Motown set. You were able to work in my Chicago requests as well as surprise me with the disco tune by Candi Staton, "Young Hearts Run Free" which always sounded to me like a song that should be performed by Mission Dance.
I also had at least 50 different people come up to me during the wedding to let me know how great the band was and these people included my friends and relatives, the bride's parents and their friends as well as most of the young people who attended and really enjoyed your show. My son said his new bride came up to him three different times to tell him how great she thought the music was during the evening. The fact remains that a great band really makes the wedding reception memorable and you guys made it a reception most of us will never forget. The talent you all have and the way you play so well together and at the same time appeal to every age group in attendance is truly unique. I am fast approaching 60 years old and have attended many, many weddings and have never seen a band nearly as good as Mission Dance. My opinion was shared by all the comments I received at the wedding and am still getting in emails this morning. Thanks again for the great effort, it was really appreciated by my wife and I as well as the new bride and groom.
As I mentioned, my daughter is close to getting engaged so as soon as that happens, I will be in touch to discuss your availability for her wedding.
P.S. The Black Eyed Peas song "I Gotta Feeling" is a great addition to your song list and really got the crowd going as you performed it perfectly.
Bill Carlin - January 2010
I felt I had to write this Thank You. My phone has not stop ringing. All our guest were so impressed with the performance of the Group. Everyone that called, first words, "where did you find them, they were fantastic."
They made the evening, they made the wedding complete, and unforgettable. Oh yes, I am the Father of the Bride, and all of you made us feel very relaxed during the entire ceremony. Your ability to touch us all
With the versatility of your music, and your performance will last a life time. The Singers were unreal, like music from a recording studio, the band was incredible. Thank you all from the bottom of my heart for making my daughters night and of course (her Husband), a night to remember for ever.
John Perrotta, Father of the Bride
Just wanted to let you know Mission Dance made our wedding. Every single person has raved to us about how amazing you were and the depth, range, and talent of all the musicians...
Thanks again, and we will be sure to recommend you to any and everyone looking for a band!
Sarah & Mike / Philadelphia Pa / May 25, 2012